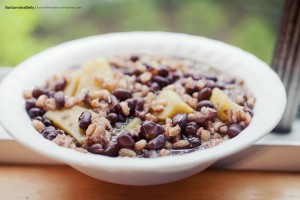 3 tbsp pearl barley

1 glass slim milk

1 tsp sugar

7 to 8 Raisins

5 Almonds

Cardamom powder (optional)

Soak the barley seeds overnight.

Boil the soaked barley for 10 mins in water.

Add drained barley to boiling milk and cook for 10 mins on a low flame.

Add sugar, Almonds and raisins.

Ideal for being high in satiety value and will help keep energy levels up.
Source: Copper, vitamin B1, chromium, phosphorus, magnesium, and niacin
Benefits: good for weight loss, prevention of heart failure, protection against atherosclerosis, regularity, lower cholesterol, & intestinal protection.