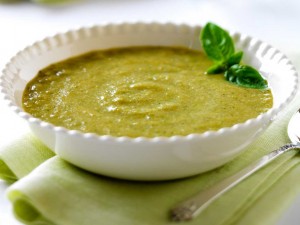 500gm Broccoli

1 medium Onion

4 Cloves Garlic

2 inch Celery Stalk

1 cup Low fat milk

4-5 Almonds

Salt to taste

White Pepper Powder to taste

Cut broccoli into small florets and wash well, soak in salted water for 10-15 minutes and drain.

Peel and roughly chop onion and garlic, wash and chop celery stalk.

Dry roast almonds on medium heat till the skin changes color slightly. Remove from heat. Cool it and slice them.

Add broccoli and continue to cook without covering the pan. Cook for 5-7 minute till broccoli becomes tender.

Remove from fire, cool and puree it in a blender.

Add milk to pureed broccoli, mix well. Bring to boil again.

Add salt and white pepper powder, stir in roasted almonds.

Serve hot.

This is an absolutely delicious yet healthy dish that would get your taste buds tingling.
Source: vitamin C, flavonoids and powerful antioxidants.
Benefits: reduces blood pressure, aids weight loss, helps calm you down and gives relief from stress.