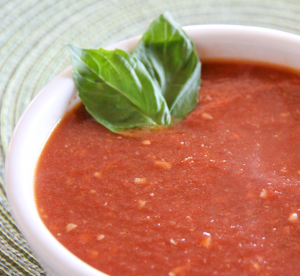 3 ripe plum tomatoes

2 heads garlic, cloves peeled and

Halved lengthwise and any green sprouts from center discarded

1 tablespoon extra-virgin olive oil

3/4 teaspoon hot red-pepper flakes

Slit the tomatoes slightly and blanch in a large pot of boiling water 10 seconds.

Immediately transfer tomatoes with a spoon to an ice bath to cool, then peel, seed, and chop.

Cook garlic in oil in a small heavy pot over medium heat, stirring occasionally, until golden, 3 to 5 minutes.

Add tomatoes, red-pepper flakes, and 1/2 teaspoon salt and simmer, covered, stirring occasionally.

Season with salt.

This sauce can be served with Paneer Dumplings or crunchy lollipop. This can also be used to toss pasta and even for marinating non-vegetarian food.