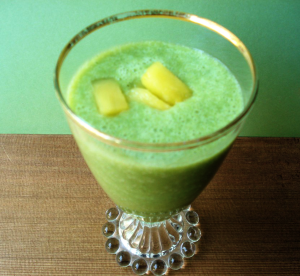 30 ml of Aloe-Vera juice

4-5 Basil Leaves

2 stalks Celery

2 tsp Gooseberry, chopped

1 cup of water

Grind all ingredients with water

Sieve through a soup siever.

Serve at room temperature.

A lip smacking drink that is loaded with nutrients!
Source: Vitamins including A, C, E, folic acid, choline, B1, B2, B3 (niacin), B6.
Benefits: Aids in digestion, detoxification, regulating blood pressure, improving circulation and oxidation of the blood and leaving the skin glowing with radiance.